Japanese & American Influenced Magazine Cover
12:14:00 AM
Fall 2009 - Graphic Arts 1
Japanese Influence Magazine Cover, 2012
Graphic Arts, 8.5 x 11.
According to D'Alleva, she states that the history of ideas is how cultural meanings generated by a group or society persists overtime. I never knew there was history to just ideas in art as well. By reading further, I realized the these ideas generate into art's context that focuses on widely practiced methods, such as Marxism, materialism, feminisms, cultural studies in conducting a contextual analysis.
As I continued reading, I realized that a lot of the practiced methods are on past works (with history behind it). I can apply Marxism to any past works but that is not my goal. Yet Karl Marx, along with his collaborator Friedrich Engels, believed "art is not is not something produced by greater geniuses in ways beyond understanding".
As I continued through the chapter, I try to grasp the concept of Visual culture in art history. D'Alleva states that there is a difference between visual culture and art history because it invites the study of a broader array of objects. "It is not about if the work is thought of as a masterpiece, what is important is that the work tells about the culture in where it is produced." This concept can be applied to my artwork especially my magazine. These are images of two magazine covers. One is of Japanese influence and the other of American influence.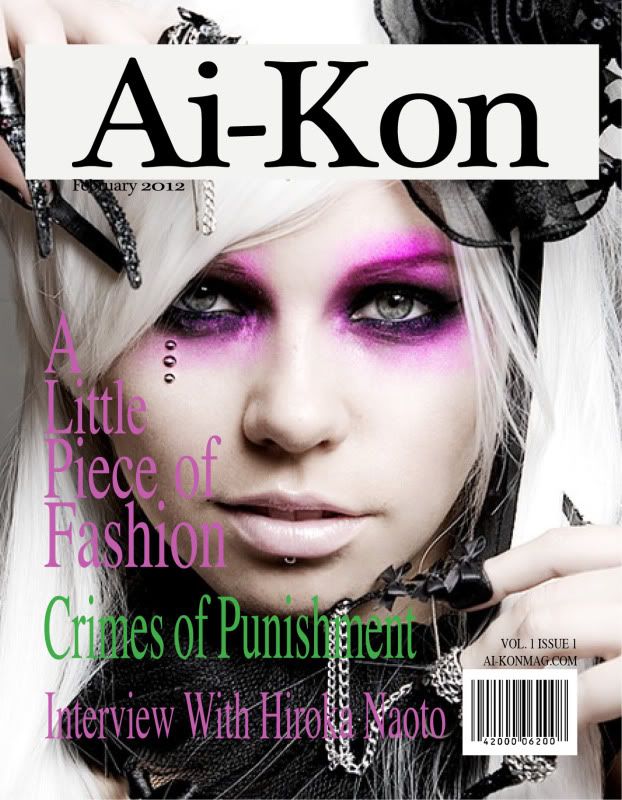 American Influence Magazine Cover, 2012
Graphic Arts, 8.5 x 11
Questions that may be asked would be:
Who is the intended audience? In this case, it would American audience in fashion and the Japanese culture.
What does it mean for the reader? The reader should be able to see the difference between a Japanese style magazine cover that is busy and cluttered and a American style magazine cover that is organized and structured.
How are cultural ideas about race and gender are played? The image of a model is Japanese while many label the models "beauties" and for magazine covers young women are always displayed especially in the fashion world.
After reading D'Alleva Chapter 3 on Art's Contexts and Jessica Evans' Visual Culture: the reader, there are several ways to address contextual questions in art history. There many methods that opens up the "art-historical canon. With using visual culture, it is certain themes filled with visual metaphors. By knowing he meaning and how visual culture works, I can develop logical questions that pertain to my artwork.